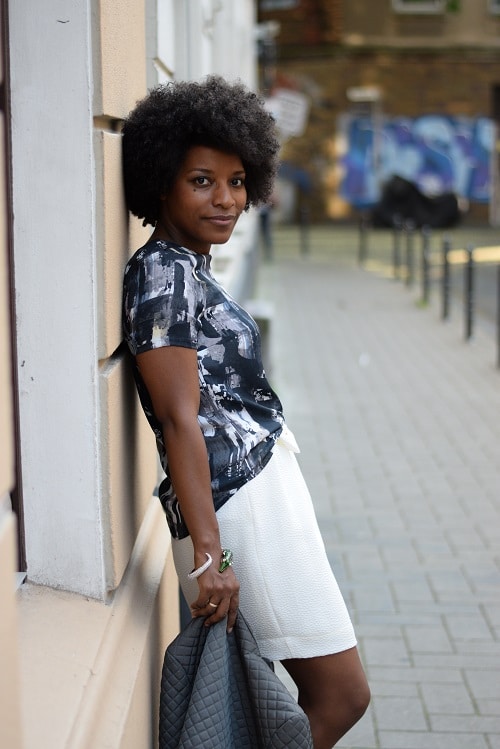 Did you already see one outfit picture on Instagram or Pinterest taken on a rainy day? I bet no. Why? Because it seems to be incredibly difficult to look stylish when it's raining. You don't want to ruin your shoes; you want to protect your brushing, or you're afraid that rain may be equal to freeze. You do not want to get wet; that's the most important thing. So you use the easiest way – or you think so: jeans, sneakers or boots, trench coat. If you go to work by bike or if you live in Germany, you may use rain capes that are an insult to fashion. It is so simple to look stylish in the rain! Just follow these 3 tips and you will never wonder what to wear to work when it's raining anymore.
Pants are no solution
In the summer as in the winter time, you may associate skirts and dresses with good weather and good mood. When it's raining, you'll probably tend to wear pants, and that's the biggest mistake you can make. Skin dries faster than fabric. That's why you need to wear a skirt when it's raining. An umbrella will typically protect the top of your body, from head to knee. But your legs may get wet. Especially if you walk into a puddle on the pavement.  Your skin will dry faster than any kind of pants. In winter, you can change tights at work easier as pants.  And if you're petite, there's a big chance that your pants touch the ground and get wet. So always go for a skirt or a dress when it's raining.
Skin dries faster than any fabric. Wear a #skirt to #work when it's raining.
Shoes you can get wet in
You shouldn't wear suede boots. And leather boots should be protected with an adequate spray. This should be enough protection for a couple of meters. If you have to walk longer to work, then wear some plastic boots and change the shoes once at work. What a great occasion to wear heels, by the way. You do not have to walk to work on it, just put them on once you get there. Everyone will understand you don't want to ruin your shoes, and no one will assume you're too sensitive to walk on heels.
Stylish rain accessories
Rain is not an excuse to get rid of any sense of style. There are a lot of stylish rain accessories that are just waiting for you to buy them instead of the ugly rain clothes you used to wear as a child or on your hiking holidays. Transparency is the key for a stylish rain outfit. A transparent umbrella (easy to find in wedding stores) or a transparent trench coat could add a stylish touch to any outfit. The bigger the umbrella, the better the protection of your hair style 🙂
Rain is no excuse for getting rid of any sense of style. #fashionblogger
Don't forget that rain does not always mean cold even if the grey sky gives this impression. You can wear your favorite dress in the summer time with sandals (don't forget, skin can afford more water and dries faster than any shoe fabric) and protect yourself with a nice big umbrella. Don't hesitate to wear colors! It's not because the sky is grey that you have to wear all black. Don't let the bad weather bring you down. Bring some good mood to work with a colorful outfit!
Do you wear something special when it's raining? Do you have some more tips to share with us in the comments?